ASCATIDAR
and
ASOCATA
denounce
and
condemn
the
murder
of
indigenous
chieftain
of
the
Makaguan
People
in
Tame,
Arauca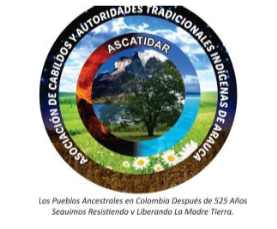 The indigenous movement of the department of Arauca, organized in the Association of Captaincy and Traditional Authorities of Arauca ASOCATA and the Association of Traditional Indigenous Cabildos and Authorities of the Department of Arauca ASCATIDAR, let the Municipal Personnel know, the attorney general's office of the nation, to the attorney general's office, to the ombudsman of the Arauca sectional people, to the constitutional court, to the National Indigenous Organization of Colombia ONIC, to human rights organizations in Colombia, Latin America and to public opinion:
1. We repudiate and strongly condemn the vile and cowardly murder of the Makaguan indigenous companion, cacica and leader, Magdalena Cucubana, an incident that occurred in the early hours of day three (3) of September 2019, in the 20 de Julio district of the municipality from Tame.
2. This criminal fact that today saddens the indigenous peoples of the Department of Arauca is a clear example of a policy of extermination towards our leaders and ancestral peoples, in which they allow racism, hatred and sevice to be foreseen, since they took the lives of a 70-year-old woman with a throat and was almost beheaded.
3. For the indigenous peoples of this country, from 1942 until today, the horrible night has not stopped because we have been victims of the armed conflict and yet we have told the Colombian State to count on us for peace, never for war .
4. We are from a culture of peace but they are killing us, thus deepening the genocide and ethnocide throughout the Colombian geography.
5. Within the 34 villages in danger of physical and cultural extermination, focused by the constitutional court is the Makaguan people to which our chief belonged and it is unfortunate to know today that our leaders, chieftains and traditional authorities every day are threatened, persecution, stigmatization and murders, and do not find protection measures to safeguard their lives.
6. We demand that the Office of the Attorney General of the Nation so that in a peremptory time it investigates and clarifies this criminal fact and with the intellectual and material authors so that they are prosecuted with all the weight and rigor of the law.
7. We demand that the government of President Duque comply with the implementation of the plan to safeguard the indigenous peoples of the Department of Arauca.
8. For this unfortunate sad and painful fact, the associations ASCATIDAR and ASOCATA, declare as a departmental day of mourning on September 4, 2019 and all cultural, labor and management activities will cease.
"WE DEMAND RESPECT FOR THE LIFE OF OUR TRADITIONAL LEADERS, CACIQUES AND AUTHORITIES"
"COUNT ON US FOR PEACE, NEVER FOR WAR"
"PEOPLES THAT DON'T FIGHT HAVE TO DISAPPEAR"
"UNIT, AUTONOMY, CULTURE AND SERVICE"